Lochaline Boat Charters
20+ Years
Diving Since 1999
Boats
2 Dive Boats Available
Capacity
12 Divers per Boat
Cost
Full boat from £550/Day
About Us
Information
Based in the sound of Mull midway between Oban and Tobermory. The Sound of Mull and the Western Isles of Scotland have arguably the most enjoyable dive sights in Britain. They certainly have the remotest of wrecks and the scenery is second to none. Our boats the Brendan and Peregrine are ideally suited for use as dive charter boats.
Both our boats have onboard compressors and diving lifts, so no longer do you have to bring along two tanks or make the sometimes lengthy journey back to land. We pride ourselves on giving the complete diving package. We can help arrange everything from accommodation to having food prepared for a full days outing. Some of our food is now as popular as the dive itself!
Sites
Well known dive sites available from Lochaline which are included in our daily charter rates: Hispania, John Preston, Rondo, Meldon, Breda, Thesis, Shuna, Swan , Falls of Lora, The Garvellach Islands, Ardtornish Point, Pennygown Quarry, Tapti, Nevada, General Consul, Aurania, Ardmore Point, Auliston Point, Calve Island, Bo Fascadale, Danny's Buoy, Elizabeth Rock, Loch Sunart and the diving around the Isle of Muck.
Book Early
We would advise anyone interested, especially for holiday times to book early, as the better dates tend to go quickly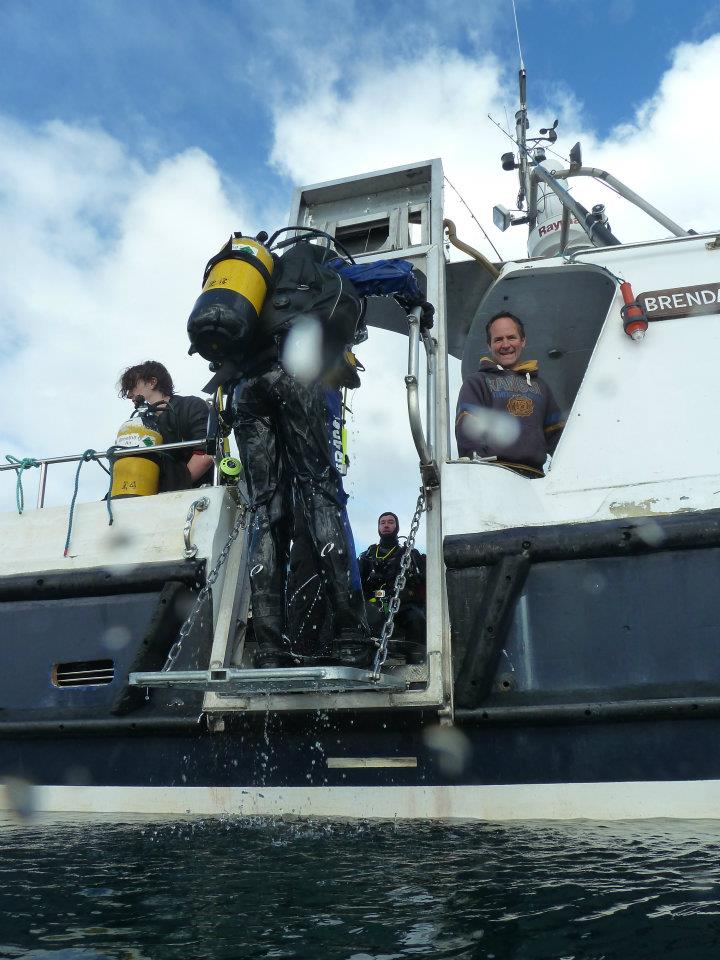 Diving
To give you an idea of the main areas that Lochaline Boat Charters operate from and the type of diving expected we have listed them below.
In addition to the locations below we are happy to discuss with you other locations and diving requirements.
Diving With Sharks
The increase in sightings of basking sharks in recent years has proven to be a bonus for our divers, the areas around the Small Isles and Coll and Tiree provide regular sightings with several monsters around the 9 metre mark being sighted in 2010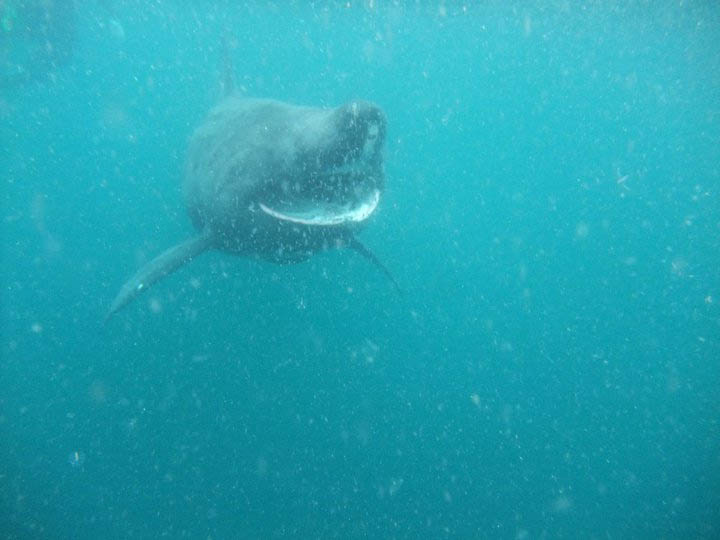 It is not unusual for the divers to surface from a dive in these areas and find themselves in the company of 4 or 5 feeding baskers.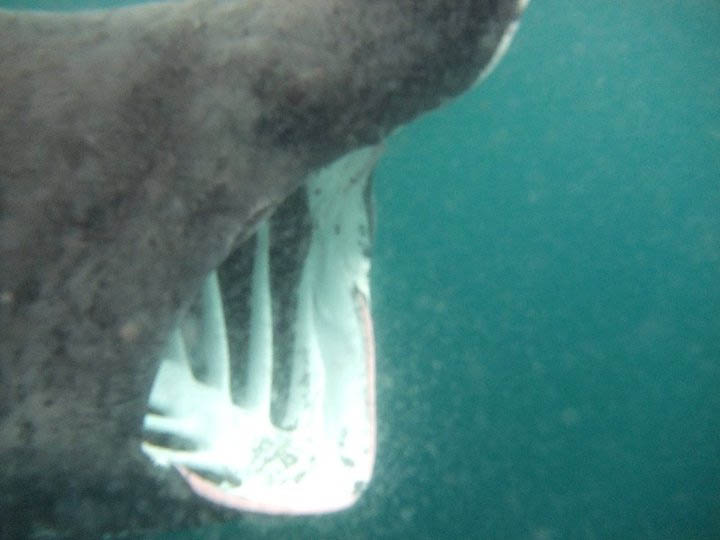 Mindful of the harm that can be caused by harassing these stunning creatures we always comply strictly with the code of conduct put in place by the "Basking Shark Project".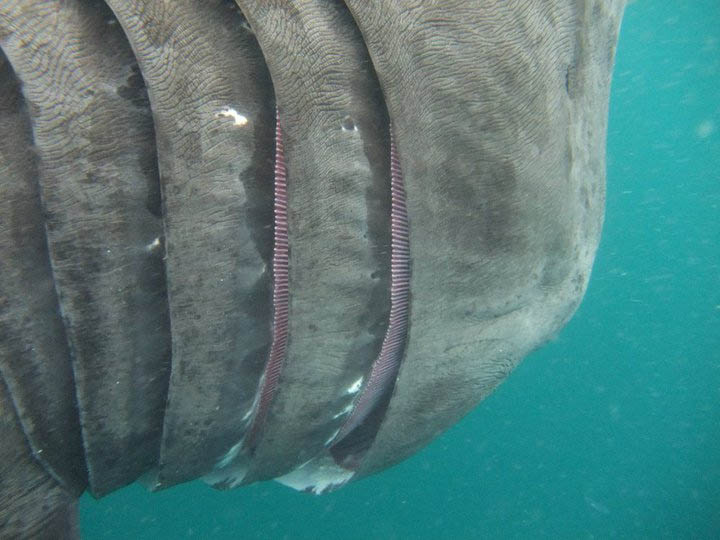 All of the basking shark pictures were taken by Doctor Jan Love diving from Lochaline Boat Charters vessels.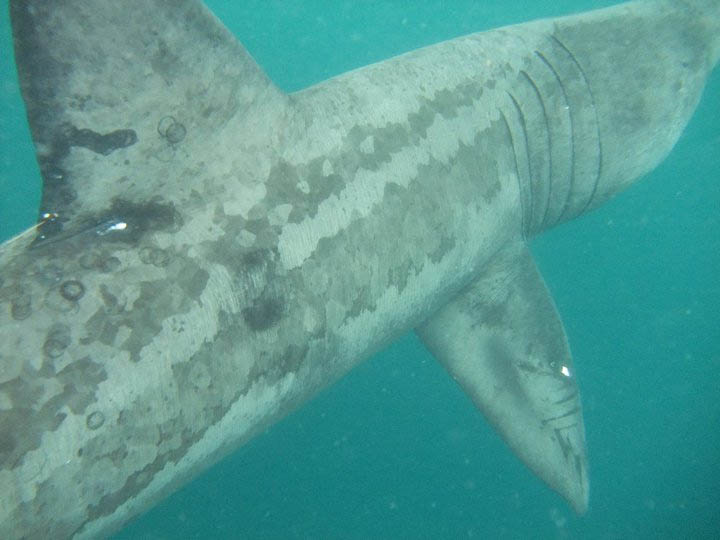 Accommodation
Highland Base Camp

Highland Base Camp are based right in the village of Lochaline and were previously known as Lochaline Dive Centre, many of you will have stayed there in the past, they provide comfortable twin ensuite rooms for up to 24

The old Manse B&B Lochaline

Rates are £30 pp per night including full cooked breakfast. They have 2 double rooms and one twin, so can take up to six people at a time. 07903 922781/ clareholohan@hotmail.co.uk

Ardtornish Estate

Bunkhouse sleeping 8 close to Lochaline, also comfortable cottages and stunning and spacious apartments

airbnb

A variety of accommodation from airbnb in the Lochaline and Morvern areas. Zoom out to increase the area covered.
Current Price List
Price may change if outside season.
Please contact us to discuss pricing for other areas.
£600.00 per day
1-3 Days
When chartering between 1 and 3 days. For 12 divers this is £50/day/diver
£550.00 per day
4 Or More Days
When chartering 4 or more days. For 12 divers this is £46/day/diver
Diver Testimonials
The following are comments left on our facebook page.
A fantastic weekend in the sound of mull wreck diving with Lochaline Boat Charters. Great digs, great diving, awesome company and a right ole laugh! Got a visit off Elton Johns brother, Celebrated a special lady's 50th, pressure tested suits, visited Tobermory, Dived Shuna, Breda, Hispania and the Rondo. Sadly all good things come to an end. Until next time!

Mark Lewis
Fantastic time with the Club & diving at Sound of Mull & Coll and Tiree.

Tom Miller
We've just had a fabulous week diving in Mull with Malcolm and Lochaline Boat Charters. We dived the Rhondo, SS Hispania, the Shuna, the Pelican and the beautiful Auliston wall and saw brittlestars and flame shells at Loch Sunart. Thanks for a really great and memorable week.

ESAC
Thanks everyone for an amazing weekend! The company, the laughs, the food and drink, the music, the dancing, the singing, the costumes and of course, the diving were all amazing! To Malcolm and lochaline boats as ever, our gratitude for the best skippering on the west coast, and for putting up with all our collective insanity.

BAW SAC
Cracking weekend in the Sound of Mull. As always Cameron McNeill, great set up on Lochaline Boat Charters and staying at Morvern Dive Lodge.

Andrew Sinclair
Who are you, and how can we help?